What social media is gaining popularity among young people and adults? TikTok, of course. During the pandemic, TikTok became a social media that shared various types of creative content. With video-based content accompanied by great music, TikTok has soon transformed into a very popular social media. You can find a variety of creative content that is entertaining such as dancing, funny content, cooking tutorials, makeup tutorials to educational content.
Currently, TikTok is used by 800 million users worldwide. TikTok is one of the largest sources of content on the internet. The high interest and rapid spread of TikTok content are becoming an attraction in the world of online marketing.
Are you interested in increasing the sales of your business through TikTok? Can your business grow using TikTok? Check out the explanation below.
Strategies to Increase Business Sales on TikTok
This is the first tip to increase online business sales on TikTok. TikTok video content depends on hashtags for title searches. Videos are usually sorted according to trending hashtags through the discover menu. Using this hashtag can help you expand the spread of your business marketing content.
If the video has spread widely, the number of followers will also be higher. With hashtags, you can see who will be your competitors. But don't use hashtags that are too popular. Because this will make your content sink.
You should use hashtags that are more specific and less popular so that your business content can get the spotlight. Just choose relevant hashtags and not too many.
2. Follow Trends and Create Exciting Content
Try to keep track of what trends are trending. TikTok hashtags can change very quickly. Therefore, you must stay abreast of all changes. Make every content as inspiration to make something that is relative and relevant to trends. You should not only imitate but include the characteristics of an online business in every content.
You should create a new version or trend that is unique and distinctive from your online business brand. Interesting content will usually bring in many new customers. They tend to click the follow button on your online business account.
3. Collaboration with Influencers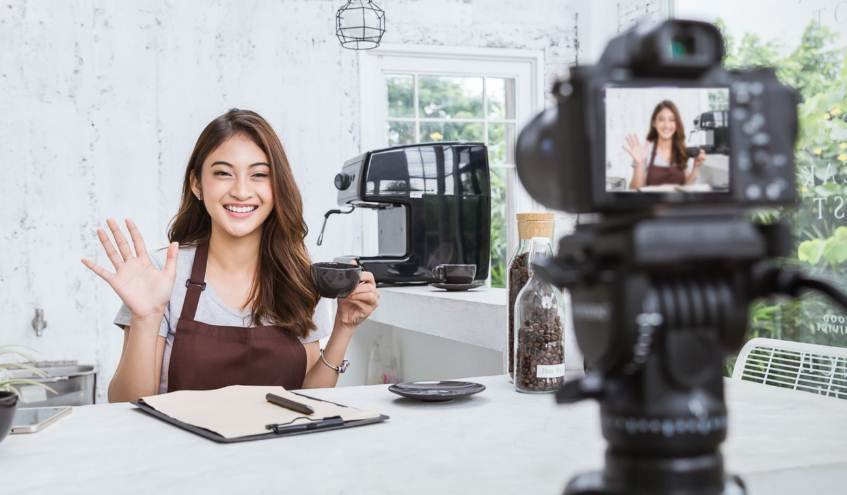 Influencers have a large audience. Among influencers, there are some who have an audience that matches your target market. This will be a way to increase online business sales on TikTok. Don't forget to continue to build a reputation with quality content. Invite influencers to share and review products or services for your business.
Before you choose an influencer, you should analyze the influencer's audience. The goal is to ascertain whether this audience matches the target market of your product. It would be much better if the influencers you choose have been using your product for a long time.
Then, give the influencer content pointers. Also, give influencers freedom on how to package content creations to suit the tastes of followers. Users are much more interested in something original. Even though the quality is not good, the reviews are more reliable.
Why Your Business Needs TikTok
| | |
| --- | --- |
| No | Why Your Business Needs TikTok |
| 1 | The number of TikTok users reaches 800 million |
| 2 | The user is quite active |
| 3 | Attention is very easy to get |
| 4 | Some of your competitors are already using it |
| 5 | This way is very fun |
4. Create a Hashtag Challenge
Hashtags are TikTok's favorite features. The use of hashtags is very popular in distributing content that matches the theme, topic, and interests of users.
Creating hashtag challenges is an effective way to increase online business engagement and brand awareness. You can create hashtags that are easy to remember and relevant to your business brand. You can pour your creativity and create challenges that are fun and easy to follow for TikTok users.
TikTok users will certainly be very enthusiastic about taking part in exciting challenges and uploading their content. In addition to conducting product reviews, you can also invite influencers to take part in the challenges you created so that their followers are also interested in joining the challenge.
5. Post & Invite Viewers to Comment on Your Posts
An active TikTok account will make it easier to find by your target market. TikTok supports frequent user engagement. The more interactions, the better your online business account and brand image. One way is by posting comments.
You can build conversations in the comments column with your potential customers. TikTok sorts comments by a number of likes. Therefore, you should think carefully about your comments so that your conversation remains meaningful and interesting.
You can also post comments on consumer videos discussing your product. Write interesting, sincere comments that match your online business brand persona.
6. Post Videos Often
You can also increase sales of your online business on TikTok by posting frequently. TikTok will provide special rewards for accounts that frequently create content on their accounts. The more posts, the wider the spread of your content.
You should prepare a minimum of 2 content per day. In order to make content writing younger, make a detailed editorial content plan according to the intensity of the posts you want.
7. Use the Best Video Effects
TikTok users need creativity to display their content well. Your online business account should be the same. In order to be able to arrange with other TikTok users, you should create content that takes advantage of TikTok's effect facilities. You can click the Effects tab and check different types of categories such as trending, world, editing, animals and so on.
TikTok also has a green screen effect which is popular enough to be used in various viral posts. You can get creative with the effects available on TikTok. Who knows, you might create new trends that are easy for users to follow.
FAQ
Why is TikTok popular in 2020?
-Because TikTok appears on Instagram and Twitter. In addition, many YouTube stars have moved to TikTok.
Why is TikTok ideal as a marketing medium?
-Because TikTok video content is very easy to share. This will greatly benefit those of you who want to go viral.