Creating a website and wanting to rank first in the search engine is certainly the desire of every website owner. For this reason, many sites are implementing SEO (Search Engine Optimization) strategies to optimize their websites to be superior to other competitors.
In the world of SEO, there are so-called black hat SEO and white hat SEO. As the name implies, white hat SEO refers to SEO strategies that comply with Google's regulations while black hat SEO means SEO strategies that violate Google's rules.
Which is safe for the long term for your website? Certainly is white hat SEO. Google continues to update its algorithm so that sites that use black hat SEO will soon be detected and banned. While sites that use white hat SEO will be more "safe" and the ranking also continues to soar.
What and how is the White SEO strategy? What is the difference between White hat SEO and black hat SEO? Check out the following explanation.
Definition of White Hat SEO
White Hat SEO is a strategy that complies with the terms and conditions of search engines, including Google.
In general, white hat SEO refers to various efforts to improve the ranking of websites on search engines while maintaining website integrity and complying with search engine regulations.
Whereas black hat SEOs use tricks to fool search engines like buying backlinks or using covert techniques. Any kind of deceptive or dangerous tactic will be considered a black hat. Black hat tactics are very risky. When the Google algorithm has updated the chances of success are very small.
Difference between White Hat SEO and Black Hat SEO
| | | |
| --- | --- | --- |
| No | White Hat SEO | Black Hat SEO |
| 1 | Prioritize users, not search engines |   Keyword Stuffing |
| 2 | Make the website more attractive and impressive   | Hidden keywords   |
| 3 | Creating a website has more value than other websites that are still one topic   | Active link collection leading to one page/link farming   |
| 4 | Not using tricks to get ranked quickly   | Automatic redirects to other article pages   |
Why is White Hat SEO Technique Important?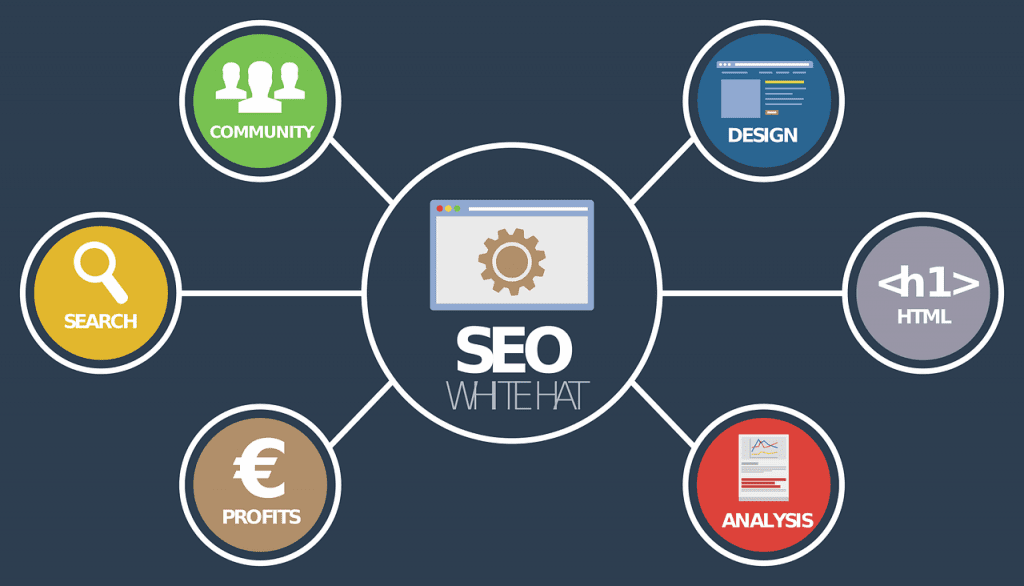 Using black hat SEO techniques to make a site banned by Google and other search engines. What's more, Google is visited by billions of people per day from various parts of the world.
Google can be a powerful source of traffic for your website. If your website is banned by Google, then your website traffic and even your business decrease dramatically. You certainly don't want all the hard work for your website to be in the vain right? Especially if Google has banned a website, then there is no guarantee that Google will re-register your website. The prohibition from Google has great consequences.
Implementing an SEO strategy is not an easy task so many website owners choose the black hat SEO path. There are also many SEO agencies that use manipulative techniques to show 'fake' progress to clients, but in the end, they risk a penalty as well. So, in order to produce progress in search engines, the website traffic and conversions, white hat SEO is need to be applied.
White Hat SEO Technique
Some white hat SEO techniques that are commonly applied to websites include
1. Keyword Research
Keyword research is the core of SEO strategy. Without doing keyword research and using it appropriately, it is impossible to make content that gets good rankings in search engines. When doing keyword research, pay close attention to the user search intent and target the appropriate keywords. Instead, keywords that are obtained from research results are used in content and pages.
2. High-Quality Content
Using keywords obtained in research results, content must also be created to determine the ranking of keywords. When creating content, such as choosing keywords, you must focus on user intent. You should consider roughly what kind of content people will search for these keywords. The content must be systematic, complete, and well optimized. To be sure, the content must answer the searcher's question.
3. Backlink
Another inseparable part of SEO is backlinks or inbound links. Links coming from outside your site lead to your website, building site authority into a major search engine ranking factor, Google. In building backlinks, pay close attention to the rules of Google. There must be no violations that harm your website. So be careful.
The best way to build backlinks is to submit your website to online directories, comment on articles and blogs that are related to your blog niche and do guest blogging on websites whose themes are related to your blog. Thus, you can get high-quality backlinks.
4. On-Page Optimization
Writing quality content is not the only way to optimize the keywords you have chosen. There are various factors on the page such as meta description, header tags, title tags, and alt text for images that all involve keywords. Of course, there are many things to consider, more than just keywords. Some of these things send signals to search engines about the page.
If you add internal links to all website content and all pages, then that is also a pretty good thing because it makes it easy for visitors to explore the site. They also get recommendations on relevant pages to read.
You can also use keywords in anchor text in internal links and give further signals to search engines about the page.
Make sure you save the anchor text that is related to the page that you are linking to.
5. Off-Page Optimization
Off-page optimization leads to factors that don't have to be on your website but are very influential. This includes ensuring consistent names, addresses, and telephone numbers in all directories and sharing website links on various social media. Both can give good results. Social media allows your website to appear more often and invites the audience to be more involved and share more information than what is on their site.
Those are some reviews about white hat SEO techniques that you should apply. White hat SEO techniques might be a bit inconvenient but provide satisfying results for your website going forward.
FAQ
Why does white hat SEO need to apply?
-Because this will make the website preferred by search engines and will not be banned if Google does an algorithm update.
Why are more websites using black hat SEO techniques?
-Because black hat SEO is considered simpler and provides fast results even though it is not safe in the long run.